You are here
Home
|
Got Grizzlies?
Got Grizzlies?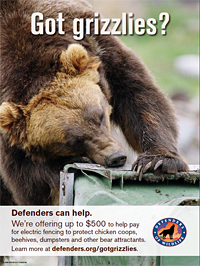 Help Us Keep Bears Alive
The primary factor limiting grizzly bear recovery is human-caused mortality. Bears die when they get into trouble with people's garbage, livestock, when they are hit by cars and trains or illegally killed. By preventing these conflicts we can keep bears alive and on the road to recovery.
Click the image to download a poster for the electric fencing incentive program to help us promote coexisting with grizzly bears.
Electric Fence Incentive Form
Defenders of Wildlife will reimburse 50% of the cost of an electric fence (up to $500) for securing grizzly bear attractants, such as garbage, fruit trees and livestock, in eligible counties in Washington, Idaho, Montana and Wyoming.
You may also be interested in:
Watch Out for Wildlife Week (fourth week in September) was created to educate people about the importance of driving smarter and safer in wildlife areas. By taking proper precautions and avoiding accidents, everyone can avoid their risk of getting in an accident with wildlife.
Bats are the only mammals capable of true flight. With extremely elongated fingers and a wing membrane stretched between, the bat's wing anatomically resembles the human hand.
The American black bear is the smallest of the three bears species found in North America, and are found only in North America. Black bears have short, non-retractable claws that give them an excellent tree-climbing ability.
Get Instant Alerts & Updates
Enter email address
Enter mobile number
On the Blog
September 11, 2014 | 8.45 AM
August 11, 2014 | 9.30 AM
Follow Us