Bring Wolves Back to Colorado
With 97 wild wolves in the U.S. and fewer than 25 in Mexico, Mexican gray wolves, or lobos, are the most endangered gray wolves in the world. The wild wolves aren't just facing a dip in their numbers; they are also facing a genetic diversity crisis – a recipe for extinction. In order to save our lobos, officials from the Four Corner States need to allow recovery efforts north of Interstate 40, in the Grand Canyon ecoregion and in northern New Mexico/southern Colorado. According to the best available science, wolves can roam there and establish sustainable, healthy populations in suitable habitat. If science gives us the solutions to save our endangered species from extinction, we owe it to our kids and grandkids to use them.
*Click to enlarge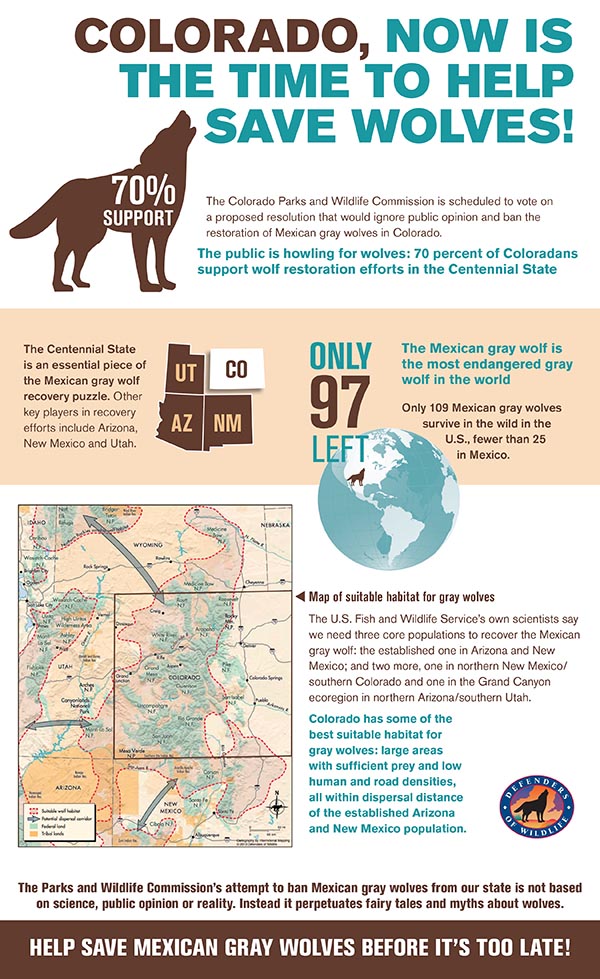 You may also be interested in:
The swift fox is a small fox around the size of a domestic house cat and found in the western grasslands of North America, such as Colorado, New Mexico and Texas.
During Wolf Awareness Week, we celebrate the vital role wolves play in the ecosystem, combat the misinformation that so often surrounds them, and share what you can do to help wolves survive.
Nearly a quarter century ago, L. David Mech made a pair of bold predictions about the challenges still awaiting wolves in the American West.
GET INSTANT ALERTS & UPDATES
Get Instant Alerts & Updates
Enter email address
Enter mobile number
On the Blog
October 1, 2013 | 4.13 PM