Give Panthers a Brake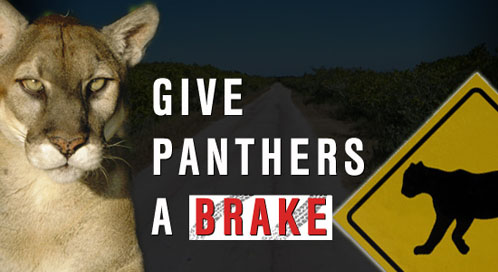 Though already critically endangered, Florida panthers are constantly in danger thanks to collisions with vehicles, shrinking habitat, and people's intolerance for living with a large predator. To help protect these vulnerable big cats, Defenders took on a major outreach campaign leading up to Save the Florida Panther Day on March 16th. Our initiative included presenting at local festivals, handing out educational materials at a local zoo, a jumbotron ad at a hockey arena and much, much more.
Read more on our blog >>
You may also be interested in:
The Florida panther, Florida's state animal, is one of the most endangered mammals on earth. It is tawny brown on the back and pale gray underneath.
The prairie dog is a member of the squirrel family.
December 2013 - Along with volunteers and conservation colleagues from partner organizations, Defenders' team flagged miles of fencing to protect imperiled sage-grouse from collisions.
Get Instant Alerts & Updates
Enter email address
Enter mobile number
On the Blog
March 27, 2014 | 10.08 AM
Follow Us