Educational Materials
Are you a teacher or youth group leader looking to explore sea otter biology and conservation with your class? Defenders of Wildlife has materials to help you do just that.
Sea Otter Educational Unit
This educational unit on sea otters includes both individual and group learning activities designed to integrate reading, writing, social studies and technology into your science curriculum. Complete lesson plans, background information and suggestions for additional resources will help your students learn about sea otter biology, their ecological significance, conservation history and much more. Download the different sections of the educational unit using the links below.
Sea Otter Educational Trunk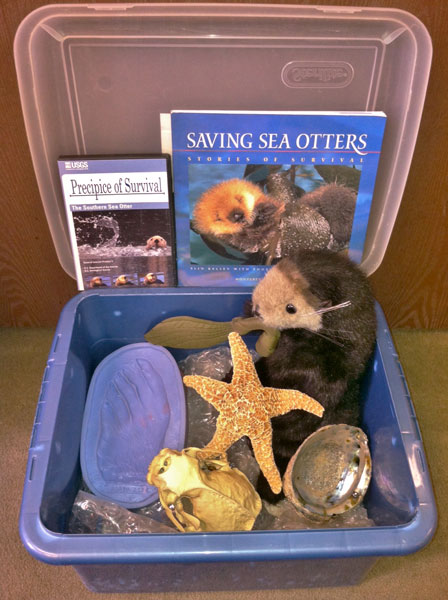 The sea otter trunk is suitable for all ages, and is loved by elementary students! It can also be used in combination with the educational unit above, which is best suited for students grades 6-8.

The trunk comes with a sea otter puppet, a starfish, an abalone, front and hind track molds, a replica skull, seven helpful books and guides, the DVD Precipice of Survival: The Southern Sea Otter, and a laminated poster.

If you are interested in reserving the sea otter trunk, please contact the Defenders of Wildlife California office at (916)313-5800. A refundable deposit is required.

Note: The sea otter teaching unit is aligned to California, Oregon, and Washington state educational standards.
 
Fast Facts
Length: California sea otters grow to about 4 feet; Northern sea otters are slightly larger.
Weight: With California sea otters, 45 lbs (females) to 65 lbs (males). Northern sea otters can reach up to 100 pounds.
Lifespan: 10-15 years (males); 15-20 years (females)
You may also be interested in:
With their expressive faces and soft, furry bodies, sea otters exude charisma. But when it comes to survival, cute and cuddly doesn't always cut it.
During Sea Otter Awareness Week, learn about how important these marine mammals are to the ecosystems in which they live, and what you can do to help them survive.
In December 2012, after much outreach from Defenders and our supporters, the "no otter zone" is finally no more.
Animals & Habitats
Browse all of our animal and habitat fact sheets.
Get Instant Alerts & Updates
Enter email address
Enter mobile number
On the Blog
February 20, 2014 | 11.30 AM
September 23, 2013 | 9.23 AM
March 20, 2013 | 10.37 AM
Follow Us