2015 Wildlife Conservation Awards Dinner
Thursday, September 17, 2015 6:00 PM
The Mayflower Hotel
1127 Connecticut Avenue, NW
Washington
,
DC
20036
Sponsor a table or purchase tickets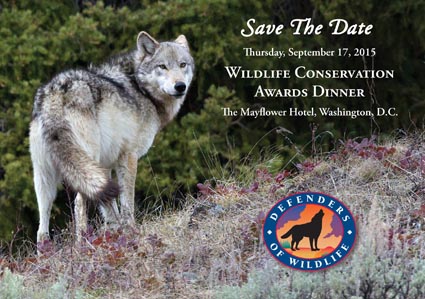 The ninth annual Wildlife Conservation Awards Dinner celebrates and honors individuals with a lasting and exceptional commitment to wildlife conservation in the categories of legacy, public service, science, and citizen advocacy.  We hope you will join our Board of Directors, honorees and guests for an inspiring evening in support of wildlife.
6:00 P.M. - Reception
7:00 P.M. - Dinner
Dinner Co-Chairs
Mark Caylor and Courtney Surls
Judith Posnikoff
Master of Ceremonies
Jeff Corwin
2015 Honorees
Mike Finley
Defenders of Wildlife Legacy Award
Presented by Todd Wilkinson, Journalist and Author of Last Stand: Ted Turner's Quest to Save a Troubled Planet
U.S. Representative Raúl M. Grijalva
Spirit of Defenders Award for Public Service
Presented by U.S. Representative Jared Huffman
Dr. Clait Braun
Spirit of Defenders Award for Science
Presented by Mark Salvo, Senior Director for Landscape Conservation, Defenders of Wildlife
The Family of Larry Haverfield
Spirit of Defenders Award for Advocacy
Presented by Joel Sartore, National Geographic Photographer and Defenders' Board member
Read more information about our honorees here! 
Please check back soon for more updates on this year's Wildlife Conservation Awards Dinner!
Individual tickets start at $350 and tables for 10 start at $10,000. For more information about the event, please contact Amy Moore at 202-772-0209 or amoore@defenders.org

You may also be interested in:
The prairie pothole region of the Great Plains is the most important and most embattled waterfowl habitat in North America, and it's long had an ally in the United States Farm Bill—until recently.