Jane P. Davenport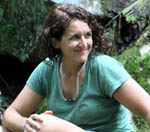 Areas of Expertise: Endangered Species Act, Clean Water Act, National Environmental Policy Act, Marine Mammal Protection Act, federal administrative law and federal wildlife and fisheries law
Jane's litigation and legal advocacy work for Defenders focuses on two main areas: first, protecting marine species such as sharks, sea turtles, and marine mammals from direct and incidental take in fisheries; and second, protecting freshwater aquatic species from habitat destruction and pollution from surface coal mining.
Before joining Defenders in 2013, Jane served as senior attorney at the Delaware Riverkeeper Network. She previously held staff attorney positions at Oceana and The Ocean Conservancy. Jane started her legal career in 1997 as an Honors Program attorney in the Wildlife and Marine Resources Section of the Environment and Natural Resources Division of the U.S. Department of Justice. Jane received an A.B. and an M.A. in Government and East Asian Studies from Cornell University. Before deciding to pursue a career in public interest environmental law, Jane completed two years of full-time intensive Japanese language studies at Cornell and the Inter-University Center for Japanese Language Studies in Yokohama, Japan, and worked as a legislative assistant for a member of the Upper House of the Japanese Diet. Jane earned a Masters of Environmental Studies from the Yale School of Forestry & Environmental Studies, and a J.D. from Yale Law School.
You may also be interested in:
Sea turtles are one of the Earth's most ancient creatures. The seven species that can be found today have been around for 110 million years, since the time of the dinosaurs.
Climate change is now one of the leading threats to wildlife. Find out what Defenders is doing to help animals around the country survive in a warming planet.
Tell President Obama to permanently protect the Berryessa Snow Mountain region and declare it a national monument!
Get Instant Alerts & Updates
Enter email address
Enter mobile number
Follow Us