Bryan Bird
Director Southwest Program
Areas of Expertise: Mexican gray wolf, the Southern Rockies and Sky Islands focal landscapes, conservation biology and public lands protection, habitat connectivity, ecosystem restoration and ecosystem services.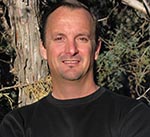 Bryan Bird joined Defenders in 2016 and directs Defenders' efforts to protect imperiled wildlife and their habitats in the Southwest. He is building on the highly effective work of our Arizona team throughout the region and expanding our work in New Mexico which is home to sensitive habitats and many endangered species.  Bryan comes to Defenders with over 20 years of experience protecting and restoring public lands while preserving wilderness and biodiversity across the Southwest and northern Mexico. Bryan has expertise in conservation of forests, riparian ecosystems and rare species habitats. He served by appointment of the Secretary of Agriculture on the Collaborative Forest Restoration Program (CFRP) Technical Advisory Panel that advised the Secretary on funding priorities and restoration of fire -dependent ecosystems. Bryan has worked to restore Mexican gray wolves in the Greater Gila Bioregion of New Mexico and Arizona for over a decade. He has published reports on western wildfire policy and beaver reestablishment as a tool for climate adaptation. 
Bryan holds a M.S. in Biology from New Mexico State University and a B.S. in Biology, from the University of Colorado, Boulder. 
You may also be interested in:
Known as "prairie ghosts" because they are so elusive, the Sonoran pronghorn (Antilocapra americana sonoriensis) is the fastest land mammal in North America. Smaller and lighter in color than other pronghorn subspecies, it is uniquely adapted for survival in harsh arid conditions.
Peregrine falcons are the fastest-flying birds in the world – they are able to dive at 200 miles per hour.
The California condor (Gymnogyps californianus) is the largest terrestrial bird in North America. It is black in color and sports a bald head with very few feathers.
GET INSTANT ALERTS & UPDATES
Get Instant Alerts & Updates
Enter email address
Enter mobile number