Ben Prater
Southeast Program Director
Areas of Expertise: biodiversity and public lands protection, habitat connectivity, geospatial analysis, resource ecology, ecosystem management, community engagement.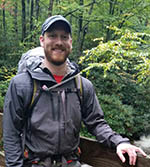 Ben Prater supervises and directs Defenders' efforts to protect imperiled wildlife and their habitats in the Southeast. He is also building on the outstanding work of our Florida and legal teams throughout the region and expanding our work into the Carolinas, Georgia, Tennessee, Kentucky and Alabama which are home to sensitive habitats and many endangered species.  
Ben comes to Defenders from Wild South, where he worked as Director of Conservation guiding efforts to protect and restore public lands while preserving wilderness and biodiversity across the Southeast. During his eleven year tenure, Ben participated in strategic partnerships to protect wilderness areas, old-growth forests, and rare species habitats. Under Ben's leadership, Wild South halted oil and gas exploration that threatened endangered species in Alabama's national forests, protected the endangered red-cockaded woodpecker from habitat loss in Mississippi's Noxubee Wildlife Refuge, and established a program to restore stream habitats in North Carolina for the rare Hellbender salamander.  
Ben holds a M.S. in Environmental Management from Nicholas School of the Environment and Earth Sciences at Duke University and a B.S. Environmental Science, from Catawba College in North Carolina. 
GET INSTANT ALERTS & UPDATES
Get Instant Alerts & Updates
Enter email address
Enter mobile number