Sage-grouse National Planning Strategy
The federal Bureau of Land Management (BLM) and the U.S. Forest Service initiated a National Greater Sage-Grouse Planning Strategy  to update nearly 100 resource management plans and forest plans covering 67 million acres public lands with new conservation measures to protect and restore sage-grouse habitat. The agencies hope to demonstrate that these new measures are sufficient to preclude the need to list sage-grouse under the Endangered Species Act.
Defenders of Wildlife has reviewed and commented on all 15 separate environmental impact statements (EISs) the agencies are developing to revise and amend their land use plans in sage-grouse range.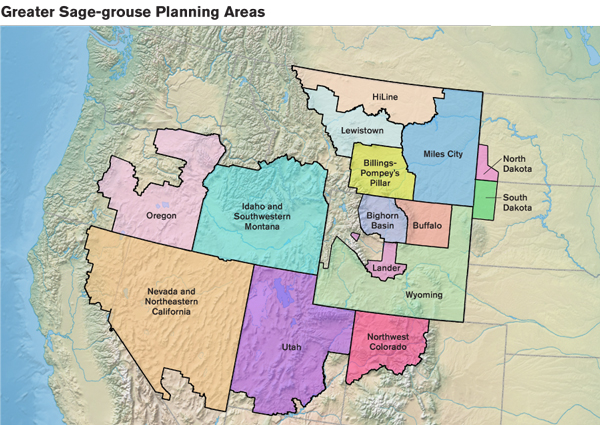 View larger version of map
Defenders of Wildlife evaluated each of the 15 draft EISs released under the National Greater Sage-Grouse Planning Strategy. We specifically analyzed whether or not the plans adopted key, science-based, enforceable conservation measures vital to sage-grouse conservation and recovery, and found that many of the conservation measures they propose are scientifically or legally inadequate to conserve and restore sage-grouse. Read our findings in the new report:

In the Red: How Proposed Conservation Plans Fail to Protect Greater Sage-Grouse 
Appendix A (Coming Soon)
Individual Sage-grouse Plan Matrices:
Further Reading
Featured Publications
Fast Facts
Height/Length: Adult males are 26-30 inches in length and may be as much as two feet tall. Adult females range from 19-23 inches. Sage-grouse are larger than domestic chickens, to which they are often compared in the news media.
Weight: Males average 6 lbs; females half as much.
Lifespan:  The average lifespan is 1-3 years, although sage-grouse have been known to live up to 10 years.
Range Map
Click to enlarge »
You may also be interested in:
Today fewer than 5,000 survive in seven scattered populations in southwestern Colorado and southeastern Utah. But things are starting to look up.
Save the sage-grouse, save the West
Study finds plans for protecting sage-grouse 'inadequate and inconsistent'
GET INSTANT ALERTS & UPDATES
Get Instant Alerts & Updates
Enter email address
Enter mobile number
Animals & Landscapes
Browse all of our animal and landscape fact sheets.
On the Blog
October 23, 2014 | 11.17 AM