Wolves in the Northeast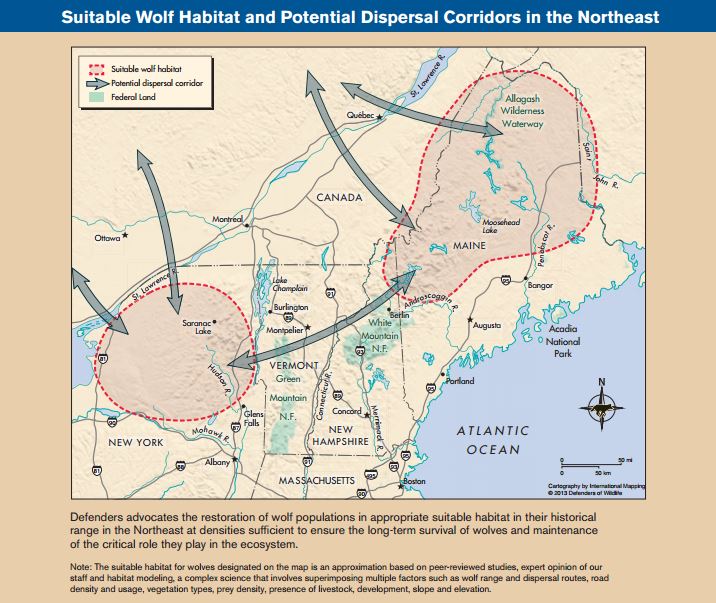 Wolves have yet to regain a footing in the Northeast since disappearing as a result of the widespread extermination campaign that began when the colonial settlers arrived. Individual wolf sightings have been documented in the Northeast, but no breeding pairs are known to exist. 
In 2003, Defenders and other conservation organizations petitioned the U.S. Fish and Wildlife Service (FWS) to explore wolf recovery in the Northeast by designating it a separate wolf recovery region that would fully protect wolves under the Endangered Species Act. Claiming they were under no legal obligation to do so, FWS did not act on the petition.
The Potential
Defenders has long advocated for a careful examination of biological conditions, such as habitat and prey availability, to ensure they meet the requirements for wolf restoration. Several studies indicate that suitable habitat and sufficient prey exist for wolves in the swath of New England extending from northern and central Maine across northern New Hampshire and Vermont to Adirondack Park in northeastern New York (Carroll 2003, Mladenoff and Sickley 1998, Harrison and Chapin 1997, Hosack 1996). There are also several habitat corridors that could bring dispersing wolves from Canada into the Northeast (see map on back).
The Challenges
Considerable debate has centered on whether wolves could naturally recolonize the Northeast on their own or whether FWS should relocate eastern timber wolves from Canada to the region (Wydeven et al. 1998; Carroll 2003). Although potential dispersal corridors between Canada and the northeastern United States exist (Carroll 2003), barriers such as the St. Lawrence River hinder southward wolf movement. Development patterns and landscape change also pose real challenges for wolf dispersal and recovery (Carroll 2003). In addition, Canada's wolf-management policy and strong hunting and trapping practices are likely to have a significant effect on wolves' ability to naturally disperse (Carroll 2003). Wolf recovery could happen more quickly if FWS captured gray wolves in eastern Canada and released them in suitable areas in the Northeast (Carroll 2003, Wydeven et al. 1998). Releasing wolves from Canada would also reduce the possibility of lone wolves moving into the northeastern states interbreeding with coyotes.
Before any wolf restoration efforts can take place in the Northeast, a detailed analysis to determine the best source population would have to be conducted. Wolf restoration also requires public support to succeed. According to a 2002 study conducted in New England, 63 percent of residents surveyed believe it is important to reintroduce the wolf in this region to ensure the balance of nature (Belden, Russonello and Stewart 2002). In addition, several conservation groups have been founded to advocate and garner support for wolf recovery in northeastern states.
Defenders continues to call for a comprehensive wolf-recovery plan that explores the biological and sociological issues surrounding wolf restoration, evaluates the potential for natural recolonization and determines the next steps toward recovery in the Northeast. 
In addition, Defenders will fight to maintain federal protection for wolves that do manage to disperse to the region. Federal involvement is vital because most northeastern states do not have protection or restoration plans in place in the event that wolves naturally recolonize.
Click here to download the factsheet.
References:
Belden, Russonello and Stewart (BRS). 2002. Nature conservation in northern New England (Findings from a survey conducted for a collaboration coordinated by the Henry P. Kendall Foundation). pp. 69-70. BRS, 1320 19th Street, Washington, DC.
Carroll, C. 2003. Wolf Viability in the Northeastern United States and Southeastern Canada: A summary of new research with implications for wolf recovery. Richmond, VT: The Wildlands Project.
Harrison, D. J. and T. G. Chapin. 1997. An assessment of potential habitat for eastern timber wolves in the northeastern United States and connectivity with habitat in southeastern Canada. 12 pp. Working Paper No. 7, Wildlife Conservation Society, New York, NY.
Hosack, D. A. 1996. Biological potential for eastern timber wolf re-establishment in Adirondack Park. Proceedings from Wolves of America Conference; November 14-16; Albany, NY. Washington, DC: Defenders of Wildlife. pp. 24-30.
Mladenoff D. J. and T. A. Sickley. 1998. Assessing potential gray wolf restoration in the northeastern United States: a spatial prediction of favorable habitat and potential populations levels. Journal of Wildlife Management. 62(1): 1-10.
Wydeven, A. P., T. K. Fuller, W. Weber and K. Mac Donald. 1998. The potential for wolf recovery in the northeastern United States via dispersal from southeastern Canada. Wildlife Society Bulletin. 26: 776-784.
You may also be interested in:
The red wolf (currently recognized as a different species than the gray wolf) once ranged as far north as Pennsylvania and as far west as central Texas. Because of its wide distribution, the red wolf played an important role in a variety of ecosystems, from pocosin lowlands to forested mountains.
Gray wolf recovery in the Great Lakes region after near-extirpation has been notably successful. In the 1960s, only a remnant population of 300 to 1,000 wolves limited to northeastern Minnesota remained.
The Northern Rockies were once a gray wolf stronghold, but predator removal programs initiated in the 1880s essentially wiped wolves out in the region by the 1930s.
GET INSTANT ALERTS & UPDATES
Get Instant Alerts & Updates
Enter email address
Enter mobile number