Public Hearings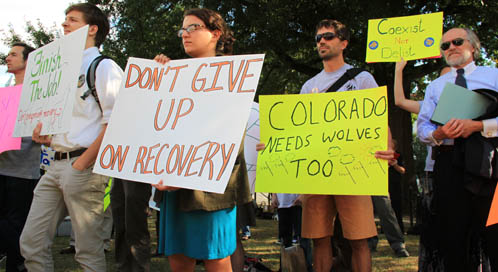 Public hearings on the proposal to remove Endangered Species Act protection for most gray wolves in the U.S. were scheduled after the original announcement. Though the government shutdown caused many of these events to be postponed at the last minute, Defenders was there at each location to hold a rally or citizens hearing, and to provide training on how to testify so that when the hearings were rescheduled, pro-wolf voices would be heard. Once the hearings were rescheduled, we worked to provide the same opportunities for wolf supporters to rally together and receive training.
Click on the links below for more information about each event.
Denver, Colorado
Albuquerque, New Mexico
Sacramento, California
You may also be interested in:
The swift fox is a small fox around the size of a domestic house cat and found in the western grasslands of North America, such as Colorado, New Mexico and Texas.
During Wolf Awareness Week, we celebrate the vital role wolves play in the ecosystem, combat the misinformation that so often surrounds them, and share what you can do to help wolves survive.
Nearly a quarter century ago, L. David Mech made a pair of bold predictions about the challenges still awaiting wolves in the American West.
GET INSTANT ALERTS & UPDATES
Get Instant Alerts & Updates
Enter email address
Enter mobile number
On the Blog
October 1, 2013 | 4.13 PM