Standing Up For Wolves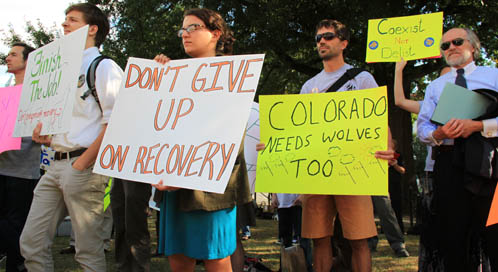 The U.S. Fish & Wildlife Service held several public hearings across the country on their proposal to strip Endangered Species Act protections from most gray wolves in the U.S. At each one, Defenders was there to rally with wolf supporters, provide information on the proposal and on wolf recovery, and train advocates on how to testify at public hearings.
You may also be interested in:
The latest articles about wildlife issues that may be of interest to those in the press.
Images for reporters to use for Defenders' articles.
When George Pakenham spotted a passenger-less stretch limo outside a Manhattan restaurant with its engine running, he decided he'd had enough and approached the driver to ask him to turn off the engine while waiting.
GET INSTANT ALERTS & UPDATES
Get Instant Alerts & Updates
Enter email address
Enter mobile number
On the Blog
February 2, 2016 | 9.43 AM
February 1, 2016 | 9.59 AM
January 26, 2016 | 4.25 PM