A Safer Sea for Right Whales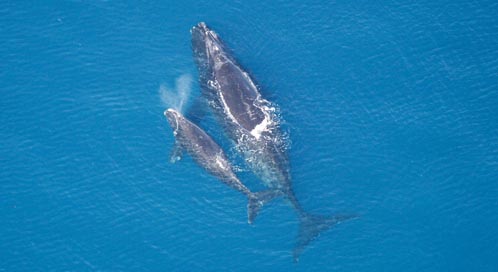 For years, Defenders of Wildlife worked hard to instate slow-speed zones for ships in places where endangered North Altantic right whales are often found. We knew that this would be the best way to protect migrating right whales, especially calves and new mothers, from ship strikes, which have long been a major threat to the species. Now, the National Marine Fisheries Service has finally made these slow-speed zones permanent!
You may also be interested in:
The endangered black-footed ferret is a member of the weasel family. It is the only ferret native to North America - the domestic ferret is a different species of European origin and has been domesticated for hundreds of years - and has a tan body with black legs and feet, a black tip on the tail and a black mask.
Sea turtles still face challenges
With a soft green cap reminiscent of an aviator's helmet and googles, the spectacled eider spends much of the year in places so remote that researchers only discovered its wintering grounds in 1999—with the help of space-age satellite tracking.
GET INSTANT ALERTS & UPDATES
Get Instant Alerts & Updates
Enter email address
Enter mobile number
On the Blog
February 8, 2016 | 9.27 AM
February 2, 2016 | 9.43 AM
February 1, 2016 | 9.59 AM