Guarding the Military Macaw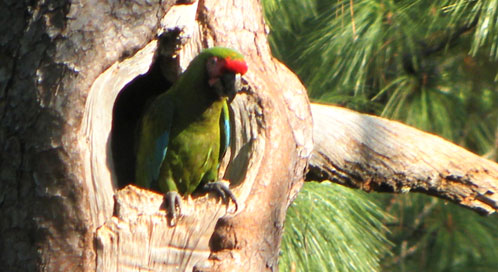 Defenders of Wildlife partnered with a team of scientists working in the Bahia de Banderas region in the state of Jalisco on the Pacific coast in a program to monitor nests of the military macaw. Our purpose was to study their breeding, but most importantly to dissuade poaching. The presence of our investigators around the nesting tree area, taking notes of the coming and going of the macaw parents, was enough to convince would-be poachers to stay away. The nest monitoring program for the 2013-2014 season was successful and no monitored nest was poached. The project monitored a total of 14 nests, from which 15 macaw chicks survived the nesting season. One of the successful nests had been poached constantly for the last ten years, and this is the first time it has produced chicks that left the nest on their own!
You may also be interested in:
Renowned for its majesty and nicknamed "the king of the jungle," the lion possesses both beauty and strength. Lions vary in color but typically sport light yellow-brown coats.
Tiger Mail; Wolves to the Rescue: Walrus Woes in a Warming Arctic
For the second year in a row, Defenders and our conservation partners stepped up to help save hundreds of prairie dogs at the edge of Thunder Basin National Grassland in eastern Wyoming.
GET INSTANT ALERTS & UPDATES
Get Instant Alerts & Updates
Enter email address
Enter mobile number
On the Blog
October 6, 2016 | 10.56 AM
September 26, 2016 | 10.14 AM
September 22, 2016 | 11.02 AM