Flagging Fences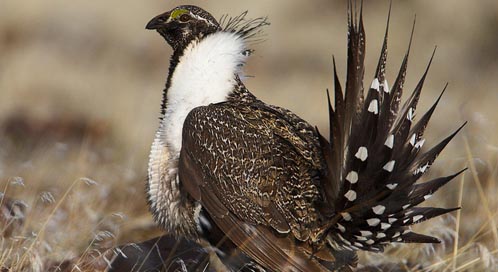 Sage-grouse, once a common sight in the West, are now imperiled, with current populations estimated at less than ten percent of historic levels. The birds are low, powerful fliers, known to fly before sunrise to their breeding grounds. When flushed, they sometimes fly directly into barbed wire strands…with gruesome results. Fences near sage-grouse breeding and nesting habitat and wintering areas can be especially hazardous.
Defenders' team gathered in rural Montana to flag miles of barbed-wire fencing in order to protect sage-grouse.
Read the full story on our blog >
You may also be interested in:
The latest articles about wildlife issues that may be of interest to those in the press.
Our Southwest team works to protect rare and threatened species like Mexican wolves, jaguars and ocelots.
Prairie dogs are burrowing rodents that live in large colonies in the grasslands of central and western North America.
GET INSTANT ALERTS & UPDATES
Get Instant Alerts & Updates
Enter email address
Enter mobile number