Endangered Ferrets Return to Fort Belknap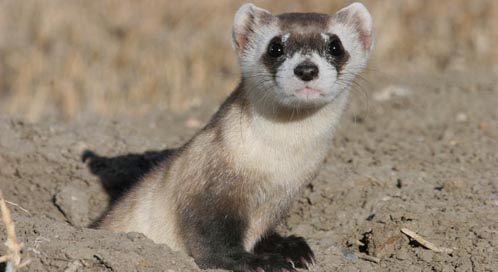 This black-footed ferret reintroduction was a long time in the making. For years, we worked with tribal and conservation partners to establish a large enough colony of prairie dogs to support black-footed ferrets. As one of the most endangered animals in North America, reintroducting black-footed ferrets back to their native prairie is a wonderful step forward. 
You may also be interested in:
The latest articles about wildlife issues that may be of interest to those in the press.
The endangered black-footed ferret is a member of the weasel family. It is the only ferret native to North America - the domestic ferret is a different species of European origin and has been domesticated for hundreds of years - and has a tan body with black legs and feet, a black tip on the tail and a black mask.
Called "skunk bear" by the Blackfeet Indians, the wolverine is the largest terrestrial member of the weasel family. It has a broad head, small eyes and short rounded ears.
GET INSTANT ALERTS & UPDATES
Get Instant Alerts & Updates
Enter email address
Enter mobile number
On the Blog
February 2, 2016 | 9.43 AM
October 21, 2015 | 2.40 PM
October 15, 2015 | 12.04 PM