Nancy Gloman
Vice President of Field Conservation Programs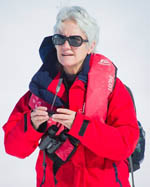 Areas of Expertise: Endangered species conservation and policy; habitat conservation; public lands and natural resource policy; private lands conservation programs; state wildlife action plans; bird conservation; conservation planning 
Nancy Gloman joined Defenders of Wildlife as Vice President of Field Conservation in May 2010. She oversees Defenders' Field Conservation Programs including field offices in California, Alaska, Florida, the Southwest, the Rockies and Plains and the Northwest and our signature "Living with Wildlife" or human-wildlife coexistence program. Defenders' field staff are the "core" of Defenders' work, addressing some of the most pressing wildlife issues in the country including the recovery of carnivores such as wolves and grizzly bears, Smart from the Start renewable energy development, climate change impacts on species such as polar bears and habitat conservation planning for Florida panthers.
As a fish and wildlife biologist, Nancy brings to Defenders extensive and broad experience in natural resource policy and practice, especially endangered species issues. Prior to joining Defenders she worked for 32 years at the U.S. Fish and Wildlife Service where she held positions in various programs across the country including endangered species, refuges and migratory birds. While at the Service she worked on several issues of importance to Defenders including the proposal to reintroduce wolves to the Olympic Peninsula, Mexican gray wolf recovery and grizzly bear recovery as Chair of the North Cascades Subcommittee of the Interagency Grizzly Bear Committee. Her most recent position as Assistant Regional Director for Ecological Services in Albuquerque has prepared her for leading the work of Defenders' field staff which is focused on recovery efforts for endangered species and on-the-ground biodiversity conservation.
Nancy holds a Bachelor of Arts in Biology from Hanover College and a Masters in Environmental Science from Indiana University.
GET INSTANT ALERTS & UPDATES
Get Instant Alerts & Updates
Enter email address
Enter mobile number