Eva Lee Sargent
Senior Southwest Representative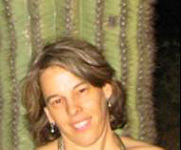 Areas of Expertise: Southwest conservation issues, reintroduction programs, Mexican wolves, and Thick-billed parrots.
Eva oversees the work of Defender's Southwest office in Tucson. Since joining Defenders in 2005, Eva has concentrated on strengthening and promoting these diverse programs, so that Defenders can "do more with more." She has brought a fresh perspective, gained in international conservation, to our work on U.S. species, including the jaguar, Mexican wolf, and cactus ferruginous pygmy owl.
Before joining Defenders of Wildlife, Eva served as Director of Conservation and Science at the San Francisco Zoo, and as Chief of Staff of the Madagascar Fauna Group, where she oversaw the first reintroduction of lemurs to the wild. She has also served as Executive Director of the Zoo Conservation Outreach Group, and has co-authored three books and written numerous scientific and popular articles.
Eva Sargent holds a B.S. in Zoology from Colorado State University and a Ph.D. in Physiology from the University of Arizona.
You may also be interested in:
The latest articles about wildlife issues that may be of interest to those in the press.
Climate change is now one of the leading threats to wildlife. Find out what Defenders is doing to help animals around the country survive in a warming planet.
The desert tortoise is a large herbivore and the official reptile in the states of California and Nevada. No other tortoise in North America shares the extreme conditions of habitats occupied by the desert tortoise.
GET INSTANT ALERTS & UPDATES
Get Instant Alerts & Updates
Enter email address
Enter mobile number