Eliza Cava
Policy Analyst, Renewable Energy and Wildlife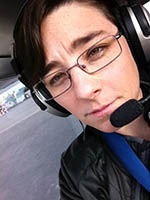 Areas of expertise: renewable energy policy; mitigation; GIS
Eliza works to facilitate wildlife co-existence with wind and solar energy. She reviews and analyzes federal projects and policies that touch upon a broad range of energy, land management, and wildlife conservation issues. Prior to working in environmental policy, Eliza was an environmental and outdoor educator. Eliza received a B.A. in Environmental Education from Swarthmore College and a Master of Environmental Science from the Yale School of Forestry and Environmental Studies. 
You may also be interested in:
The latest articles about wildlife issues that may be of interest to those in the press.
Our Southwest team works to protect rare and threatened species like Mexican wolves, jaguars and ocelots.
The desert tortoise is a large herbivore and the official reptile in the states of California and Nevada. No other tortoise in North America shares the extreme conditions of habitats occupied by the desert tortoise.
GET INSTANT ALERTS & UPDATES
Get Instant Alerts & Updates
Enter email address
Enter mobile number