Courtney Sexton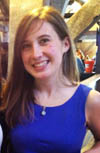 Courtney Sexton works on a host of issues with Defenders, with a focus on species and habitat concerns in the Southwest and Western states, renewable energy development and the highly endangered Mexican gray wolf. Prior to coming to Defenders, Courtney was part of the public relations team at the Smithsonian's National Museum of Natural History, and has worked with a handful of small environmental nonprofit groups. Most recently, she tried the life of a starving artist, working as a freelancer concentrating on nature, science and environmental writing. Courtney is a graduate of Villanova University and holds an MFA in Creative Nonfiction Writing from Sarah Lawrence College. 
You may also be interested in:
Bears die when they get into trouble with people's garbage, livestock, when they are hit by cars and trains or illegally killed. By preventing these conflicts we can keep bears alive and on the road to recovery.
The most anti-wildlife Congress in decades has gray wolves in their sights. Tell them to keep politics out of wolf recovery!
Montanans want wild bison in the state, but some local politicians are pushing hard to block wild bison restoration. They are raising unfounded fears about bison and pushing agendas based on politics, not science. They are accommodating a few special interests and ignoring the majority of Montanans.