Claire Colegrove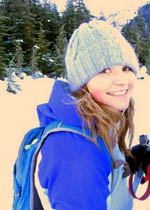 Areas of expertise:  National Environmental Policy Act; National Forests; Threats to Wildlife
Claire is the Alaska Representative with Defenders' office in Anchorage, Alaska.  Her work is aimed at protecting imperiled species and their habitats, concentrating on the Chugach National Forest Plan revision process and climate adaptation projects on the Kenai Peninsula in Alaska. Before moving to Alaska, Claire worked at Defenders headquarters in Washington, DC as Coordinator for our Legal, Climate Change, Federal Lands, and International Programs. Claire is originally from Bainbridge Island, Washington. She earned her B.A. in Environmental Studies from Hamilton College. 
You may also be interested in:
Defenders of Wildlife is working to protect and strengthen the National Wildlife Refuge System, the only system of federal lands in the United States dedicated to wildlife conservation.
Eighty percent of threatened and endangered species rely on privately owned land for their habitat needs and in the U.S. most of our private land is managed by farmers, ranchers and forest landowners.
The grizzly bear is a large predator that is different from black bears due to a distinctive hump on its shoulders. Grizzly bears have concave faces and long claws about the length of a human finger.
Get Instant Alerts & Updates
Enter email address
Enter mobile number
Follow Us