Philadelphia Metro Outreach Representative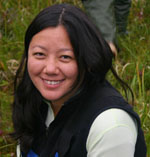 Julia Millan Shaw is the Philadelphia Metro Outreach Representative for Defender's national outreach team.  She works across eastern Pennsylvania and across the state of New Jersey with organizations, media, and activists to engage in wildlife conservation and protect endangered species. Prior to joining Defenders, Julia spent 6 years with Alaska Wilderness League mobilizing PA and NJ activists to protect wild lands in Alaska.
Julia is a Center City Philadelphia resident, by way of New Jersey and Alaska, and has a dedication to protecting land and wildlife both at home and across the country. She also spends time as an advocate for arts, education and urban agriculture in her city and is a mom to two young children.