Director of National Outreach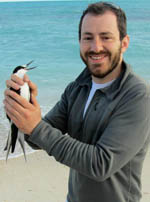 Yaron is a member of the Government Relations team. As Director of National Outreach, Yaron works with organizers across the country to develop partnerships with environmental and non-traditional allies. His team recruits and trains citizen-advocates to raise awareness of wildlife conservation issues with elected officials and the media. 
Prior to joining Defenders of Wildlife, Yaron worked as a senior staff member on multiple political campaigns across the country, including Virginia Governor Tim Kaine's races in 2005 and 2012. He was also a direct mail consultant for two election cycles, and worked in government affairs.   
Yaron received his Master of Environmental Management from the Nicholas School of the Environment at Duke University, where he focused on environmental economics and policy and researched collaborative opportunities for the conservation of open space with both historic and environmentally significant features. He received his B.A. from St. Mary's College of Maryland.