You are here
Home
|
Got Grizzlies?
Got Grizzlies?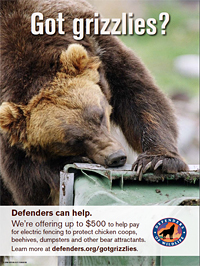 The primary factor limiting grizzly bear recovery is human-caused mortality. Bears die when they get into trouble with people's garbage, livestock, when they are hit by cars and trains or illegally killed. By preventing these conflicts we help both people and bears.
Click the image to download a poster for the electric fencing incentive program to help us promote this program.
Electric Fence Incentive Form
Defenders of Wildlife will reimburse 50% of the cost of an electric fence (up to $500) for securing grizzly bear attractants, such as garbage, fruit trees and livestock, in eligible counties in Washington, Idaho, Montana and Wyoming.
Application and brochure for 2015 projects now available.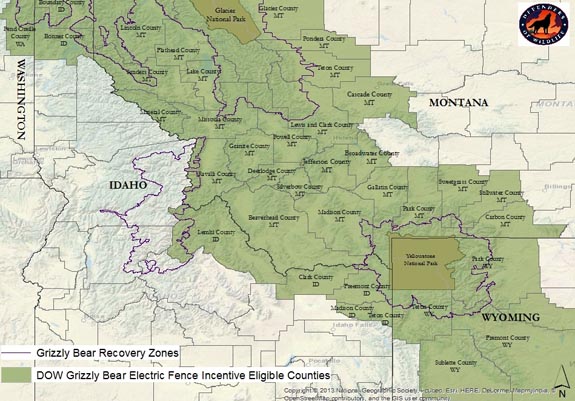 Erin Edge, Defenders' Representative for Rockies and Plains, talks about Defenders' work to reduce conflict between bears and people, including the Electric Fencing Program:
You may also be interested in:
Called "skunk bear" by the Blackfeet Indians, the wolverine is the largest terrestrial member of the weasel family. It has a broad head, small eyes and short rounded ears.
The variety of landscapes and habitats in the southeast – from Florida's lagoons to North Carolina's forests – makes for an equally awe-inspiring variety of wildlife.
The grizzly's recovery is remarkable, but there's still work to be done.
GET INSTANT ALERTS & UPDATES
Get Instant Alerts & Updates
Enter email address
Enter mobile number
On the Blog
November 19, 2015 | 11.23 AM
November 4, 2015 | 10.48 AM
November 2, 2015 | 9.00 AM