Defenders Wildlife eNews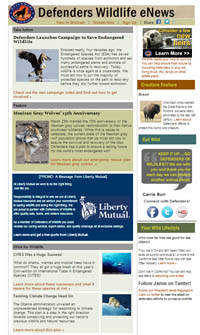 Action of the Month
Defenders Launches Campaign to Save Endangered Wildlife
Feature
Mexican Gray Wolves' 15th Anniversary
Defending Wildlife
Campaign to Save the Florida Panther!
Wins for Wildlife
CITES Was a Huge Success!
Tackling Climate Change Head On
Creature Feature
Bison

Past Issues
February 2013
Population counts are in - Lobos need a "genetic rescue!"
January 2013
A Magic Number for Cook Inlet Belugas 
December 2012
Research wolves killed outside of Yellowstone
November 2012
October 2012
Budget Disaster Puts Wildlife in the Crosshairs
August 2012
Speak Out for Farmers and Wildlife
July 2012
June 2012
Save Polar Bear Homes, Little Pup Lost, Harness Nature
May 2012
100,000 animals killed each year
April 2012
Earth Day Pledge; New Bison Homes; A Site to See
March 2012
Shameful Wolf Culls; Send Us Your Photos!
February 2012
Will You Pay for Idaho's Aerial Wolf Kills? Oregon Wolf Looks for Love; Not Your Ordinary Zoo Trip
January 2012
More Room for Bison; Seeking Safety for Panthers; Saying Goodbye
December 2011
Deadline for Wyoming Wolves; Honors for Defenders' Radio Show; Wildlife Adoption Savings
November 2011
Wildlife Suffers When Congress Attacks; Big Sharks Win; and More...
October 2011
100,000-Strong for Polar Bears
September 2011
August 2011
Stop Attacks on Wolves, Wildlife
July 2011
Oregon's Vision for Wolves; Withering Hope from Obama
June 2011
May 2011
Get Instant Alerts & Updates
Enter email address
Enter mobile number
Follow Us