Yellowstone Bison Arrive at Fort Belknap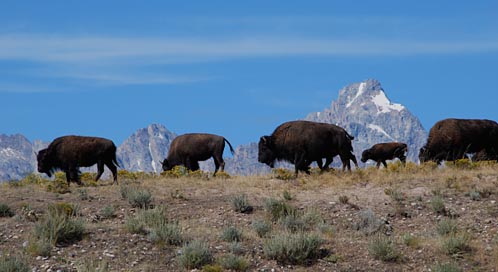 After a Montana Supreme Court victory ending the injunction against relocating wild bison, Defenders and our partners helped relocate a herd of genetically pure, wild bison from Yellowstone to Fort Belknap Indian Reservation. It was only the second herd of its kind to be restored to the Great Plains in decades, and holds promise for the larger efforts to restore the iconic American prairie and its wildlife.
You may also be interested in:
Bats are the only mammals capable of true flight. With extremely elongated fingers and a wing membrane stretched between, the bat's wing anatomically resembles the human hand.
The American black bear is the smallest of the three bears species found in North America, and are found only in North America. Black bears have short, non-retractable claws that give them an excellent tree-climbing ability.
December 2013 - Along with volunteers and conservation colleagues from partner organizations, Defenders' team flagged miles of fencing to protect imperiled sage-grouse from collisions.
Get Instant Alerts & Updates
Enter email address
Enter mobile number
On the Blog
August 28, 2014 | 9.10 AM
Follow Us