Yellowstone Bison Arrive at Fort Belknap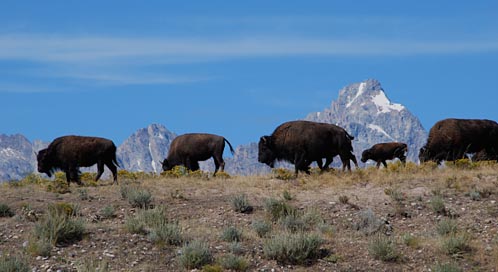 After a Montana Supreme Court victory ending the injunction against relocating wild bison, Defenders and our partners helped relocate a herd of genetically pure, wild bison from Yellowstone to Fort Belknap Indian Reservation. It was only the second herd of its kind to be restored to the Great Plains in decades, and holds promise for the larger efforts to restore the iconic American prairie and its wildlife.
You may also be interested in:
Good news continues for Yellowstone's bison
Bears die when they get into trouble with people's garbage, livestock, when they are hit by cars and trains or illegally killed. By preventing these conflicts we can keep bears alive and on the road to recovery.
Peregrine falcons are the fastest-flying birds in the world – they are able to dive at 200 miles per hour.
GET INSTANT ALERTS & UPDATES
Get Instant Alerts & Updates
Enter email address
Enter mobile number