Yellowstone Bison Arrive at Fort Belknap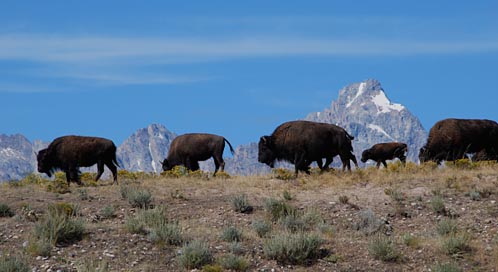 After a Montana Supreme Court victory ending the injunction against relocating wild bison, Defenders and our partners helped relocate a herd of genetically pure, wild bison from Yellowstone to Fort Belknap Indian Reservation. It was only the second herd of its kind to be restored to the Great Plains in decades, and holds promise for the larger efforts to restore the iconic American prairie and its wildlife.
You may also be interested in:
Each year, as wild bison wander beyond the borders of Yellowstone National Park in search of food, Montana livestock officials demand that these iconic animals be rounded up and shipped to slaughter houses to keep them out of Montana and to keep their numbers low.
The latest articles about wildlife issues that may be of interest to those in the press.
November 2014 - More than 100 wild bison were brought to Fort Peck Indian Reservation, adding to this historic conservation herd.
Get Instant Alerts & Updates
Enter email address
Enter mobile number
On the Blog
December 30, 2014 | 8.30 AM
December 2, 2014 | 8.40 AM
November 19, 2014 | 10.02 AM
Follow Us