Yellowstone Bison Arrive at Fort Belknap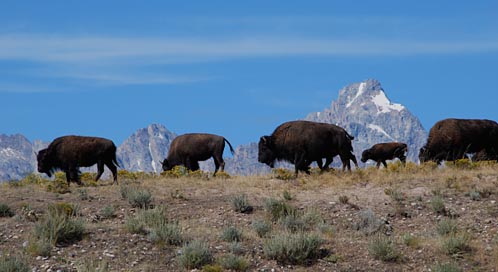 After a Montana Supreme Court victory ending the injunction against relocating wild bison, Defenders and our partners helped relocate a herd of genetically pure, wild bison from Yellowstone to Fort Belknap Indian Reservation. It was only the second herd of its kind to be restored to the Great Plains in decades, and holds promise for the larger efforts to restore the iconic American prairie and its wildlife.
You may also be interested in:
Climate change is now one of the leading threats to wildlife. Find out what Defenders is doing to help animals around the country survive in a warming planet.
The wolf is the largest member of the canine family. Gray wolves range in color from grizzled gray or black to all-white. As the ancestor of the domestic dog, the gray wolf resembles German shepherds or malamutes.
The grizzly bear is a large predator that is different from black bears due to a distinctive hump on its shoulders. Grizzly bears have concave faces and long claws about the length of a human finger.
Get Instant Alerts & Updates
Enter email address
Enter mobile number
On the Blog
August 28, 2014 | 9.10 AM
Follow Us