Standing Up For Wolves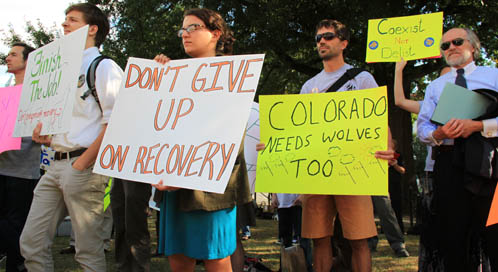 The U.S. Fish & Wildlife Service held several public hearings across the country on their proposal to strip Endangered Species Act protections from most gray wolves in the U.S. At each one, Defenders was there to rally with wolf supporters, provide information on the proposal and on wolf recovery, and train advocates on how to testify at public hearings.
You may also be interested in:
We work to create and share strategies to encourage peaceful coexistence between people and wildlife.
New regulations could seriously impact the future of Mexican gray wolf recovery. Join us in Santa Fe to speak up for these rare and endangered wolves!
Tell Secretary Jewell to stop ignoring threats to wolverines and give them full protection before it's too late!
Get Instant Alerts & Updates
Enter email address
Enter mobile number
On the Blog
August 27, 2014 | 8.30 AM
August 26, 2014 | 8.30 AM
August 22, 2014 | 11.49 AM
Follow Us