Standing Up For Wolves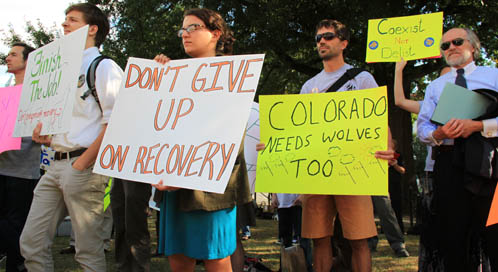 The U.S. Fish & Wildlife Service held several public hearings across the country on their proposal to strip Endangered Species Act protections from most gray wolves in the U.S. At each one, Defenders was there to rally with wolf supporters, provide information on the proposal and on wolf recovery, and train advocates on how to testify at public hearings.
You may also be interested in:
Once the most widespread carnivore on Earth, wolves were eradicated for centuries across Europe, and early immigrants to North America brought with them their cultural prejudice and fear of the species.
The species was once the most abundant bird in the world - but went extinct in a matter of decades. What can we learn from the plight of the passenger pigeon?
Ignoring the lessons learned from unsustainable clear-cutting in the 1970s and 1980s, Oregon politicians are pushing legislation that would dramatically accelerate logging in the heart of the Pacific Northwest.
Get Instant Alerts & Updates
Enter email address
Enter mobile number
On the Blog
April 18, 2014 | 10.34 AM
Follow Us