A Soaring Success: Montana Wildlife Crossings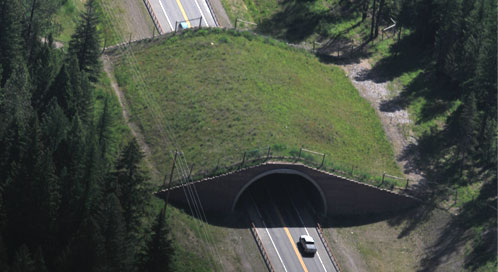 Each year, millions of animals are killed along the roadways that criss-cross America, breaking important wildlife habitat up into disconnected fragments. But in Montana, a new set of wildlife crossing structures are making things safer for drivers and for wildlife. As part of the People's Way Partnership, Defenders is working to spread the word about how effective these crossings can be - so we took to the skies to show you the whole picture.
You may also be interested in:
Watch Out for Wildlife Week (fourth week in September) was created to educate people about the importance of driving smarter and safer in wildlife areas. By taking proper precautions and avoiding accidents, everyone can avoid their risk of getting in an accident with wildlife.
Bats are the only mammals capable of true flight. With extremely elongated fingers and a wing membrane stretched between, the bat's wing anatomically resembles the human hand.
The American black bear is the smallest of the three bears species found in North America, and are found only in North America. Black bears have short, non-retractable claws that give them an excellent tree-climbing ability.
Get Instant Alerts & Updates
Enter email address
Enter mobile number
On the Blog
September 11, 2014 | 8.45 AM
Follow Us