The Scarlet Macaw Returns to the Gulf of Mexico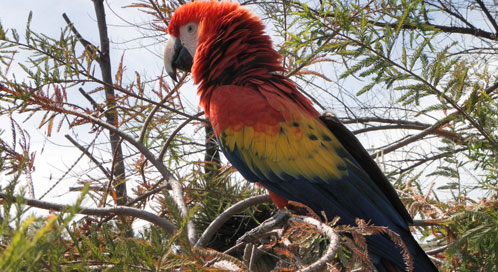 The scarlet macaw has returned to the rainforests of the Gulf of Mexico after being wiped out half a century ago. In collaboration with our partners on the ground, Defenders was involved in the effort to release 27 scarlet macaws into the wild in the Biosphere Reserve of Los Tuxtlas in southern Veracruz. This release was the first step of a project that plans to create the largest wild population of these birds in Mexico.
You may also be interested in:
April, 2013: Thanks to new regulations that Defenders proposed and worked hard to promote, Mexico is protecting vital sea turtle nesting habitat.
September 2014 - Five species of shark and two species of manta ray have officially gained international protection!
June 2014 - Thanks to our monitoring program, dozens of Mexico's endangered military macaws were saved from poachers this year!
GET INSTANT ALERTS & UPDATES
Get Instant Alerts & Updates
Enter email address
Enter mobile number
On the Blog
October 28, 2015 | 8.29 AM
October 14, 2015 | 8.59 AM