Proactive for Polar Bears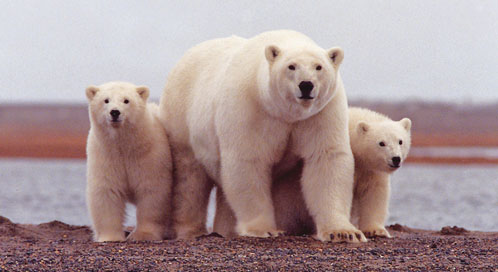 We hope that there is never a cause to use the tool that we and our partners helped create. An oil spill in the remote Arctic would be devastating to the ecosystem and its wildlife. With increased shipping and interest in drilling in the region, however, we want to make sure responders have what they need to help wildlife if the worst should happen. So we teamed up with local partners in Alaska to develop an important new tool that could make the difference between life and death for polar bears in the case of an oil spill.
You may also be interested in:
Salmon is the common name for fish in the order Salmoniformes. They live in the northern Atlantic and Pacific oceans, and are anadromous, which means most types of salmon are born in fresh water, migrate to the sea, and return to freshwater to reproduce, or "spawn."
The American black bear is the smallest of the three bears species found in North America, and are found only in North America. Black bears have short, non-retractable claws that give them an excellent tree-climbing ability.
The bald eagle is the only eagle unique to North America. Its distinctive brown body and white head and tail make it easy to identify even from a distance.
GET INSTANT ALERTS & UPDATES
Get Instant Alerts & Updates
Enter email address
Enter mobile number
On the Blog
November 1, 2016 | 9.28 AM