No Road to Ruin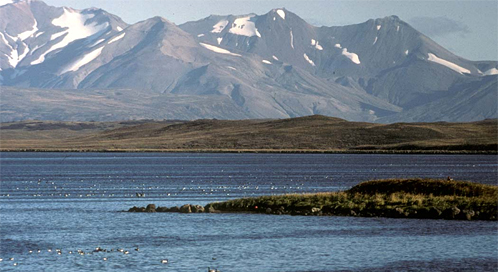 Izembek National Wildlife Refuge was established in 1960 to protect some of the most distinctive and important wetlands in the world. It is home to an abundance of wildlife, including 98% of the world's population of Pacific black brant (a sea bird), as well as grizzly bear, caribou, and salmon. Years ago, a road was proposed to connect the communities of King Cove and Cold Bay - a road that would cut across sensitive wetlands as well as steep slopes prone to avalanches. Numerous studies – by the federal government, the state of Alaska and wildlife experts – have concluded that a road through Izembek would permanently and significantly damage the wilderness and wildlife habitat value of the refuge, yet the road remained in contention for decades, with Defenders and other conservation groups vehemently opposed.
You may also be interested in:
We're turning to President Obama to ask him to permanently protect 1.3 million acres of vital desert lands by designating the Sand to Snow, Castle Mountains and the Mojave Trails including the Pisgah Valley as national monuments!
The walrus is a large marine mammal with flippers, a broad head, short muzzle, small eyes, tusks and whiskers. Scientists recognize two subspecies of walrus – the Atlantic walrus and the Pacific walrus.
The Izembek National Wildlife Refuge is home to an incredible array of wildlife including wolves, brown bears, wolverines, caribou and migratory birds. Tell Congress to oppose the construction of a road through the Izembek National Wildlife Refuge!
Get Instant Alerts & Updates
Enter email address
Enter mobile number
On the Blog
October 6, 2015 | 11.45 AM
October 5, 2015 | 9.41 AM
September 30, 2015 | 10.57 AM