Flagging Fences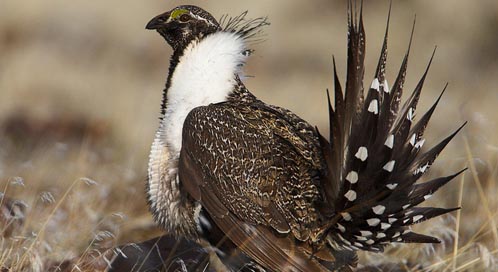 Sage-grouse, once a common sight in the West, are now imperiled, with current populations estimated at less than ten percent of historic levels. The birds are low, powerful fliers, known to fly before sunrise to their breeding grounds. When flushed, they sometimes fly directly into barbed wire strands…with gruesome results. Fences near sage-grouse breeding and nesting habitat and wintering areas can be especially hazardous.
Defenders' team gathered in rural Montana to flag miles of barbed-wire fencing in order to protect sage-grouse.
Read the full story on our blog >
You may also be interested in:
Bears die when they get into trouble with people's garbage, livestock, when they are hit by cars and trains or illegally killed. By preventing these conflicts we can keep bears alive and on the road to recovery.
Peregrine falcons are the fastest-flying birds in the world – they are able to dive at 200 miles per hour.
The wolf is the largest member of the canine family. Gray wolves range in color from grizzled gray or black to all-white. As the ancestor of the domestic dog, the gray wolf resembles German shepherds or malamutes.
GET INSTANT ALERTS & UPDATES
Get Instant Alerts & Updates
Enter email address
Enter mobile number
On the Blog
October 25, 2016 | 10.55 AM
September 19, 2016 | 9.47 AM
August 26, 2016 | 12.17 PM