Flagging Fences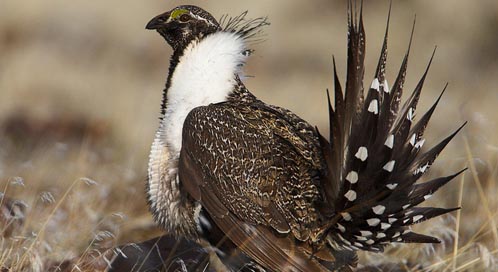 Sage-grouse, once a common sight in the West, are now imperiled, with current populations estimated at less than ten percent of historic levels. The birds are low, powerful fliers, known to fly before sunrise to their breeding grounds. When flushed, they sometimes fly directly into barbed wire strands…with gruesome results. Fences near sage-grouse breeding and nesting habitat and wintering areas can be especially hazardous.
Defenders' team gathered in rural Montana to flag miles of barbed-wire fencing in order to protect sage-grouse.
Read the full story on our blog >
You may also be interested in:
The wolf is the largest member of the canine family. Gray wolves range in color from grizzled gray or black to all-white. As the ancestor of the domestic dog, the gray wolf resembles German shepherds or malamutes.
The war on wolves must stop. Demand an official status review of wolves in the Northern Rockies – the first step toward restoring protection!
September 2014 - The City Council of Ketchum in Blaine County unanimously passed a resolution requesting that the State of Idaho use nonlethal tools to manage wolf and livestock conflicts in Blaine County.
Get Instant Alerts & Updates
Enter email address
Enter mobile number
On the Blog
October 21, 2014 | 8.30 AM
September 11, 2014 | 8.45 AM
Follow Us