Flagging Fences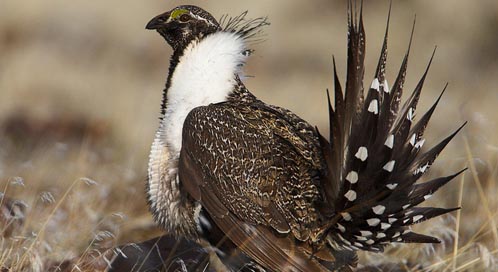 Sage-grouse, once a common sight in the West, are now imperiled, with current populations estimated at less than ten percent of historic levels. The birds are low, powerful fliers, known to fly before sunrise to their breeding grounds. When flushed, they sometimes fly directly into barbed wire strands…with gruesome results. Fences near sage-grouse breeding and nesting habitat and wintering areas can be especially hazardous.
Defenders' team gathered in rural Montana to flag miles of barbed-wire fencing in order to protect sage-grouse.
Read the full story on our blog >
You may also be interested in:
The latest articles about wildlife issues that may be of interest to those in the press.
In July 2010, in a 5-0 vote, the Colorado State Parks Board approved sweeping changes to the Off Highway Vehicle (OHV) Grant Program that will give habitat restoration and law enforcement proposals the opportunity to receive a portion of the funds collected from OHV registration fees.
The Conservation Registry was developed by Defenders of Wildlife and partners to provide a simple, free web-based database and mapping system. The Conservation Registry visualizes on-the-ground conservation and wildlife investments.
Get Instant Alerts & Updates
Enter email address
Enter mobile number
On the Blog
October 31, 2014 | 10.28 AM
October 28, 2014 | 9.23 AM
October 23, 2014 | 11.17 AM
Follow Us