Flagging Fences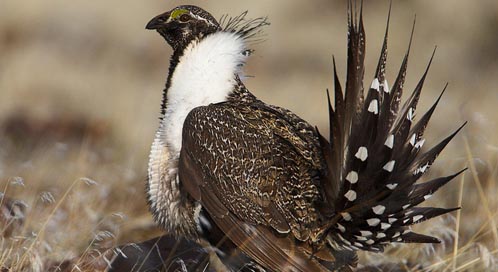 Sage-grouse, once a common sight in the West, are now imperiled, with current populations estimated at less than ten percent of historic levels. The birds are low, powerful fliers, known to fly before sunrise to their breeding grounds. When flushed, they sometimes fly directly into barbed wire strands…with gruesome results. Fences near sage-grouse breeding and nesting habitat and wintering areas can be especially hazardous.
Defenders' team gathered in rural Montana to flag miles of barbed-wire fencing in order to protect sage-grouse.
Read the full story on our blog >
You may also be interested in:
Big Cypress teems with wildlife and is a refuge for the critically endangered Florida panther. But the roads here make it a dangerous place for the big cats, with vehicle collisions one of the leading causes of death.
"Once again, Defenders will make stopping any anti-ESA legislation that emerges our highest priority." - Jamie Rappaport Clark, President, Defenders of Wildlife
When it comes to endangered Mexican gray wolves in the Southwest every one counts—and so do partnerships.
Get Instant Alerts & Updates
Enter email address
Enter mobile number
On the Blog
October 31, 2014 | 10.28 AM
October 23, 2014 | 11.17 AM
October 21, 2014 | 8.30 AM
Follow Us