Endangered Ferrets Return to Fort Belknap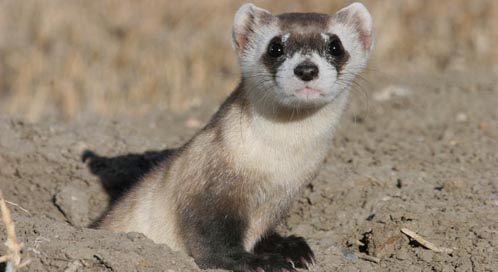 This black-footed ferret reintroduction was a long time in the making. For years, we worked with tribal and conservation partners to establish a large enough colony of prairie dogs to support black-footed ferrets. As one of the most endangered animals in North America, reintroducting black-footed ferrets back to their native prairie is a wonderful step forward. 
You may also be interested in:
The wolf is the largest member of the canine family. Gray wolves range in color from grizzled gray or black to all-white. As the ancestor of the domestic dog, the gray wolf resembles German shepherds or malamutes.
The war on wolves must stop. Demand an official status review of wolves in the Northern Rockies – the first step toward restoring protection!
Bats are the only mammals capable of true flight. With extremely elongated fingers and a wing membrane stretched between, the bat's wing anatomically resembles the human hand.
Get Instant Alerts & Updates
Enter email address
Enter mobile number
On the Blog
October 1, 2014 | 3.14 PM
Follow Us