Endangered Ferrets Return to Fort Belknap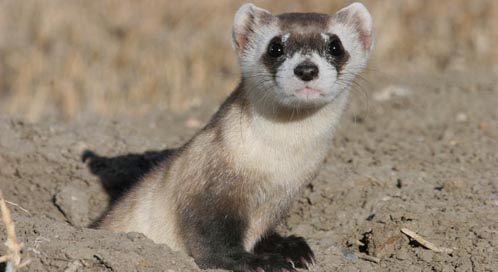 This black-footed ferret reintroduction was a long time in the making. For years, we worked with tribal and conservation partners to establish a large enough colony of prairie dogs to support black-footed ferrets. As one of the most endangered animals in North America, reintroducting black-footed ferrets back to their native prairie is a wonderful step forward. 
You may also be interested in:
The latest articles about wildlife issues that may be of interest to those in the press.
In July 2010, in a 5-0 vote, the Colorado State Parks Board approved sweeping changes to the Off Highway Vehicle (OHV) Grant Program that will give habitat restoration and law enforcement proposals the opportunity to receive a portion of the funds collected from OHV registration fees.
The Conservation Registry was developed by Defenders of Wildlife and partners to provide a simple, free web-based database and mapping system. The Conservation Registry visualizes on-the-ground conservation and wildlife investments.
Get Instant Alerts & Updates
Enter email address
Enter mobile number
On the Blog
November 20, 2014 | 9.30 AM
October 31, 2014 | 10.28 AM
October 1, 2014 | 3.14 PM
Follow Us