Endangered Ferrets Return to Fort Belknap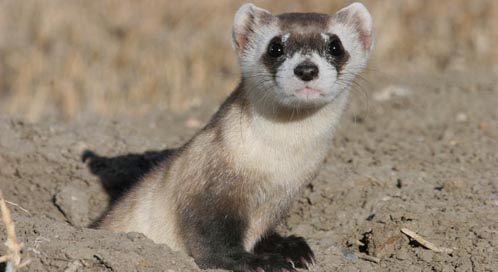 This black-footed ferret reintroduction was a long time in the making. For years, we worked with tribal and conservation partners to establish a large enough colony of prairie dogs to support black-footed ferrets. As one of the most endangered animals in North America, reintroducting black-footed ferrets back to their native prairie is a wonderful step forward. 
You may also be interested in:
Climate change is now one of the leading threats to wildlife. Find out what Defenders is doing to help animals around the country survive in a warming planet.
The wolf is the largest member of the canine family. Gray wolves range in color from grizzled gray or black to all-white. As the ancestor of the domestic dog, the gray wolf resembles German shepherds or malamutes.
The grizzly bear is a large predator that is different from black bears due to a distinctive hump on its shoulders. Grizzly bears have concave faces and long claws about the length of a human finger.
Get Instant Alerts & Updates
Enter email address
Enter mobile number
Follow Us