Steve Forrest
Senior Rockies and Plains Representative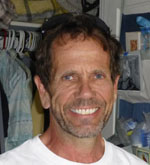 Areas of expertise:
Great Plains ecology, black-footed ferrets, bison, prairie dogs, Antarctic ecology, penguins, federal wildlife policy, law
Steve joined Defenders in 2013. His work for Defenders focuses on black-footed ferret, prairie dog and bison conservation in the Great Plains, as well as conservation of the habitat of the region. He has been involved in grassland conservation of the Great Plains since 1998. He led a multi-stakeholder effort to identify priority conservation areas in the Northern Great Plains, "Ocean of Grass," and cofounded the nonprofit American Prairie Reserve, which aims to be the largest grassland reserve in North America. He has published a number of articles on tourism and bird species abundance and distribution in the Antarctic, the winter ecology of pine martens in Wyoming, and some 30 scientific articles on black-footed ferrets, prairie dogs and bison, including the book "Prairie Night" (Smithsonian Press, 1996), an account of the rediscovery and life history of the black-footed ferret. Steve was a founding board member of the Montana Outdoor Science School, and serves as member of the IUCN Bison Specialist Group. Steve has served on the U.S. Fish and Wildlife Service Black-footed Ferret Recovery Implementation Team, was advisor to the Canadian Black-footed ferret Recovery Team, and was coauthor of the 1988 U.S. Fish and Wildlife Service Black-footed Ferret Recovery Plan. Steve holds a B.S. in Forestry from Oregon State University, an M.S. in Environmental Studies from the Yale University School of Forestry, and a J.D. from the University of Washington School of Law.
You may also be interested in:
Good news continues for Yellowstone's bison
Bears die when they get into trouble with people's garbage, livestock, when they are hit by cars and trains or illegally killed. By preventing these conflicts we can keep bears alive and on the road to recovery.
Peregrine falcons are the fastest-flying birds in the world – they are able to dive at 200 miles per hour.
GET INSTANT ALERTS & UPDATES
Get Instant Alerts & Updates
Enter email address
Enter mobile number