Quinn Read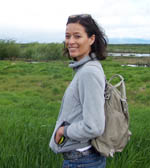 Areas of Expertise: Environmental law (NEPA, ESA), Oregon wildlife conservation issues, volunteer and activist engagement 
Quinn joined Defenders as the Oregon-based Northwest Representative in November 2015. Her background is in environmental law and cleantech business development. Most recently, Quinn served as Wildlife Coordinator for Oregon Wild, where she managed the wildlife litigation docket, advocated for wildlife conservation policy in Salem, and created an outreach and activist program to engage Oregonians who care about wildlife. Her work for Defenders focuses on protecting iconic species in Oregon such as wolves and sage-grouse, as well as the habitat they depend on for survival. 
Quinn holds a B.A. in Political Science from the University of Washington and a J.D. with an emphasis in environmental law from the University of San Diego School of Law.
You can also send mail to Quinn at:
PMB 922
4110 Hawthorne Blvd.
Portland, OR 97214-5246
GET INSTANT ALERTS & UPDATES
Get Instant Alerts & Updates
Enter email address
Enter mobile number