Michael Adams
Senior Florida Representative
Areas of Expertise: imperiled species, land management and stewardship, forest restoration, wetlands, prescribed burning, habitat corridors, community outreach, environmental education, citizen science and volunteerism.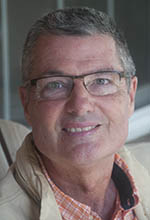 Mike is responsible for promoting and expanding the field conservation program and operations for the Northeast Florida region. He develops conservation strategies and works with partners to protect and restore Florida's imperiled wildlife and their habitat and to establish a state ecological network.  Mike also works to conserve core and connective habitat for wide-ranging species and advocates for incorporating wildlife conservation to miscellaneous land owners, including government, military, agriculture, industry and private.   
As a field biologist, conservationist, consultant and author, Mike brings to Defenders over 36 years of experience in natural resource conservation and environmental management.  His education and  experience are a complimentary balance of science, research, and management with government, consulting, private, advocacy, educational, non-profit and military organizations.  
He owns and manages a 94-acre award winning private conservation area that promotes wildlife protection, habitat restoration, water quality, and community outreach and education. He also writes a weekly conservation column in the local newspaper.  
Mike holds a M.S. in Environmental Management from Central Michigan University at Naval Air Station Jacksonville, Florida and a B.S. in Biology, minor in Anthropology from Gannon University in Erie, Pennsylvania.  
GET INSTANT ALERTS & UPDATES
Get Instant Alerts & Updates
Enter email address
Enter mobile number