Melanie K. Gade
Communications Specialist
Areas of Expertise:  Gray Wolf, Endangered Species Act, Northern Rockies and Great Plains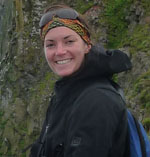 As a Communications Specialist with Defenders of Wildlife, Melanie handles press coverage for wildlife in the Northern Rockies and Great Plains as well as Defenders' national work on the Endangered Species Act. Prior to working at Defenders, Melanie was a public affairs specialist and later an internal communications specialist for the U.S. Geological Survey.  At USGS, Melanie developed experience in direct media outreach and also expertise in the areas of messaging, social media and blog/online outreach. Melanie received her B.A. from Dickinson College and has a M.A in Public Commun
ication from American University. Melanie's independent research focuses on identifying culturally relevant environmental message frames for multicultural audiences within the United States. She is a Colorado native and former rafting guide. 
You may also be interested in:
Bats are the only mammals capable of true flight. With extremely elongated fingers and a wing membrane stretched between, the bat's wing anatomically resembles the human hand.
The American black bear is the smallest of the three bears species found in North America, and are found only in North America. Black bears have short, non-retractable claws that give them an excellent tree-climbing ability.
December 2013 - Along with volunteers and conservation colleagues from partner organizations, Defenders' team flagged miles of fencing to protect imperiled sage-grouse from collisions.
Get Instant Alerts & Updates
Enter email address
Enter mobile number
Follow Us