Melanie K. Gade
Communications Specialist
Areas of Expertise:  Gray Wolf, Endangered Species Act, Northern Rockies and Great Plains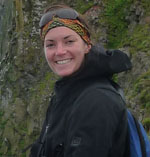 As a Communications Specialist with Defenders of Wildlife, Melanie handles press coverage for wildlife in the Northern Rockies and Great Plains as well as Defenders' national work on the Endangered Species Act. Prior to working at Defenders, Melanie was a public affairs specialist and later an internal communications specialist for the U.S. Geological Survey.  At USGS, Melanie developed experience in direct media outreach and also expertise in the areas of messaging, social media and blog/online outreach. Melanie received her B.A. from Dickinson College and has a M.A in Public Commun
ication from American University. Melanie's independent research focuses on identifying culturally relevant environmental message frames for multicultural audiences within the United States. She is a Colorado native and former rafting guide. 
You may also be interested in:
New FWS rule fails to help Mexican gray wolves
Today fewer than 5,000 survive in seven scattered populations in southwestern Colorado and southeastern Utah. But things are starting to look up.
There have been many victories under the Endangered Species Act (ESA) over the years. But quite a few did not come because our government did the right thing. They came because conservation groups like Defenders saw the government was failing to comply with the law and used the tool of last resort: the courts.