Melanie K. Gade
Communications Specialist
Areas of Expertise:  Gray Wolf, Endangered Species Act, Northern Rockies and Great Plains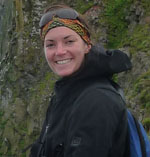 As a Communications Specialist with Defenders of Wildlife, Melanie handles press coverage for wildlife in the Northern Rockies and Great Plains as well as Defenders' national work on the Endangered Species Act. Prior to working at Defenders, Melanie was a public affairs specialist and later an internal communications specialist for the U.S. Geological Survey.  At USGS, Melanie developed experience in direct media outreach and also expertise in the areas of messaging, social media and blog/online outreach. Melanie received her B.A. from Dickinson College and has a M.A in Public Commun
ication from American University. Melanie's independent research focuses on identifying culturally relevant environmental message frames for multicultural audiences within the United States. She is a Colorado native and former rafting guide. 
You may also be interested in:
Bears die when they get into trouble with people's garbage, livestock, when they are hit by cars and trains or illegally killed. By preventing these conflicts we can keep bears alive and on the road to recovery.
The most anti-wildlife Congress in decades has gray wolves in their sights. Tell them to keep politics out of wolf recovery!
Wildlife is once again at a crossroads, and the need to speed up recovery efforts could not be more urgent.