Martha Surridge
Senior Conservation Planner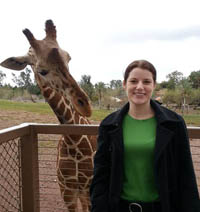 Areas of expertise: conservation planning, climate change adaptation, landscape and biodiversity conservation, endangered species recovery
Martha is a conservation biologist who specializes in planning. She brings together the tools, information and expertise needed to make biodiversity conservation more effective. She works closely with Defenders staff, other conservation organizations, and federal and state agencies on endangered species recovery.
Prior to joining Defenders, Martha worked on strategic planning and climate change adaptation with the Southern Rockies Landscape Conservation Cooperative, the US Forest Service and the Navajo Nation Department of Fish and Wildlife. She spent a year in Swaziland monitoring wildlife, including leopard tortoises and marabou storks. While at the World Wildlife Fund, she led strategic planning workshops around the world.
Martha holds a M.S. in Sustainable Development & Conservation Biology from the University of Maryland-College Park. She has a B.A. in Physical Anthropology, with a concentration on primate behavior, from Yale University.  
You may also be interested in:
Sea turtles are one of the Earth's most ancient creatures. The seven species that can be found today have been around for 110 million years, since the time of the dinosaurs.
Climate change is now one of the leading threats to wildlife. Find out what Defenders is doing to help animals around the country survive in a warming planet.
Tell President Obama to permanently protect the Berryessa Snow Mountain region and declare it a national monument!
Get Instant Alerts & Updates
Enter email address
Enter mobile number
Follow Us