Laurie Ann Macdonald
laurie.macdonald@defenders.org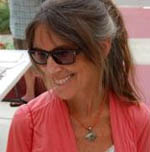 Areas of Expertise: Florida conservation issues, endangered species; conservation biology, wildlife habitat preserve planning and management, growth management, transportation, grassroots organizing, and public education
Laurie oversees the work of Defenders Florida program team in protecting and restoring Florida's imperiled wildlife, their habitat and a statewide ecological network. Laurie serves on several species Technical Advisory Groups and Recovery Teams including Florida panther, Florida manatee, Florida black bear and gopher tortoise, as well as policy task forces for issues such as transportation planning and the State Wildlife Action Plan.  As a steering committee member of the Florida Forever Coalition Laurie is working to meet the needs of this rapidly developing state by advocating for reauthorization and increased funding for the Florida Forever Act, the largest state land acquisition program in the country.
In 1994 Laurie joined Defenders of Wildlife as a part-time field representative for Defenders' first Florida program - the Habitat for Bears Campaign - to protect the threatened Florida black bear. Prior to joining Defenders, Laurie split her time between her wildlife consulting business and volunteer work with the Sierra Club and other conservation organizations. Past pro bono work included chairing the national Sierra Club Endangered Species and Habitats campaign and the Florida League of Conservation Voters. Laurie has always sought to combine science and advocacy in her conservation work.
Laurie earned her B.A. from the University of Oregon, Eugene and her M.S. in Zoology at the University of South Florida, Tampa. She has authored or coauthored scientific, issue and educational documents. She is a board member of the national Endangered Species Coalition, the Everglades Coalition and the Everglades Law Center.
You may also be interested in:
The latest articles about wildlife issues that may be of interest to those in the press.
As manatees search for the warm-water shelters once common along the Florida coast, we take this time to raise public awareness of the threats to these beloved but endangered sea creatures.
Right whales like the North Atlantic right whale (Eubalaena glacialis) are among the rarest of all marine mammal species. These baleen whales have two separate populations – western and eastern.