Kylie Paul
Rockies and Plains Representative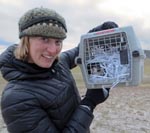 Kylie Paul works primarily to protect and restore wolverines, lynx, and fishers in the Northern Rockies. She also assists in implementing nonlethal methods to reduce conflict between people and wildlife, in particular wolves and grizzly bears. In addition, Kylie helps develop on-the-ground conservation solutions through State Wildlife Action Plans in the Rockies and Great Plains.
For years, Kylie has conducted field research on wolves, sea otters, prairie dogs, and songbirds across the United States. When not in the field, Kylie has worked on projects focusing on habitat connectivity and road ecology for a variety of conservation groups. Most recently, she worked as a wildlife biologist in Missoula, Montana, assessing wildlife habitat and writing policy reports for an environmental consulting firm. Kylie has previously worked with Defenders to coordinate outreach for the People's Way Partnership, a unique collaboration to highlight the conservation value of 41 wildlife crossing structures along U.S. Highway 93 in western Montana.
Kylie holds a Masters of Science from the University of Montana's Environmental Studies department, where she assessed the ability of a citizen program to document wildlife along roadways in order to reduce mortality and increase connectivity.
You may also be interested in:
The latest articles about wildlife issues that may be of interest to those in the press.
Images for reporters to use for Defenders' articles.
Bears die when they get into trouble with people's garbage, livestock, when they are hit by cars and trains or illegally killed. By preventing these conflicts we can keep bears alive and on the road to recovery.