Karla M. Dutton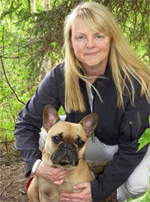 Karla directs the work of Defenders' Alaska field program team. Since joining Defenders in September 2006, Karla has expanded the Alaska program from a major ongoing effort to reverse the State's intensive predator control programs for wolves and bears and ecosystem level work to protect wildlife habitat in refuges and national forests to developing broader programs and strategic partnerships. The Alaska office is focusing increasingly on initiatives on climate change and the related habitat impacts on polar bears.
Karla serves on:
the Climate Change Federal Legislation and Policy NGO working group, which is focused on supporting and promoting progressive federal legislation on polar bears, energy and arctic issues
the United States Fish and Wildlife Service's Connecting Landscapes into the Future working group, which is incorporating climate change impacts into land and ecosystem planning on state and federal lands
the Cook Inlet Beluga whale NGO coalition, which focuses on public education and outreach (Citizen Scientist Monitoring program); and engaging state and federal political leadership to increase support for the pending listing decision; and works on Bristol Bay OCS and marine species issues
the Issues Policy Council (IPC), the voting body that directs the work of the Alaska Conservation Alliance (ACA) a 40 conservation organization membership organization.
Karla comes to Defenders with a background in local, state and federal government, business, and non-profit management. She served on the U.S. State Department Secretariat that launched the International Coral Reef Initiative, oversaw the development and expansion of the volunteer and political advocacy program for Rhode Island's Save the Bay, and served as BP Indonesia's Tangguh LNG Project's Senior Biodiversity Advisor. During her tenure at BP she wrote and implemented BP's first regional Biodiversity Action Plan, which engaged indigenous communities in Indonesia along with national, regional and international conservation organizations to address a broad range of marine and terrestrial conservation issues.
Karla Dutton holds a B.A. in Natural Resources Management (1981), an M.A. in Marine Affairs (international public policy and management) (1995) from the University of Rhode Island and a Senior Executive Management Program certificate from Georgetown University (2005).
You may also be interested in:
The North American River Otter is the only river otter found north of Mexico. Its luscious pelt, which was a staple of the French fur trade in the 1700-1800s, has drawn hunters for hundreds of years.
Whales belong to the order cetacea, which includes whales, dolphins and porpoises. Whales are divided into two suborders: baleen and toothed whales.
Often referred to as the largest land carnivores in the world, polar bears are actually marine mammals, spending much of their time on Arctic sea ice hundreds of miles from land.
GET INSTANT ALERTS & UPDATES
Get Instant Alerts & Updates
Enter email address
Enter mobile number