Ingrid Seggerman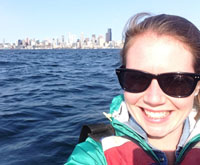 Areas of Expertise: Federal legislation relating to the Endangered Species Act
Ingrid is a member of the government relations team where she currently focuses on federal legislation related to the Endangered Species Act. She represents Defenders' interests before Congress and the Administration, and works with a coalition of national conservation organizations to uphold federal protections for imperiled species. Ingrid tracks and analyzes legislative efforts to undermine the protections of the Endangered Species Act, and defends the law from congressional meddling.
During law school, Ingrid clerked for the U.S. Environmental Protection Agency and Oceana. She participated in the environmental law section of the Institute for Public Representation and was the executive editor of submissions for the Georgetown International Environmental Law Review. Before joining Defenders in August 2014, Ingrid held the Georgetown Barker Fellowship in Animal Law at the Humane Society of the United States.
Ingrid has a Bachelor's degree in Government and Art History from Georgetown University. She earned her law degree from Georgetown University Law Center.
GET INSTANT ALERTS & UPDATES
Get Instant Alerts & Updates
Enter email address
Enter mobile number