Courtney Sexton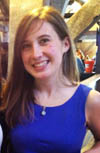 Courtney Sexton works on a host of issues with Defenders, with a focus on species and habitat concerns in the Southwest and Western states, renewable energy development and the highly endangered Mexican gray wolf. Prior to coming to Defenders, Courtney was part of the public relations team at the Smithsonian's National Museum of Natural History, and has worked with a handful of small environmental nonprofit groups. Most recently, she tried the life of a starving artist, working as a freelancer concentrating on nature, science and environmental writing. Courtney is a graduate of Villanova University and holds an MFA in Creative Nonfiction Writing from Sarah Lawrence College. 
You may also be interested in:
Climate change is now one of the leading threats to wildlife. Find out what Defenders is doing to help animals around the country survive in a warming planet.
The wolf is the largest member of the canine family. Gray wolves range in color from grizzled gray or black to all-white. As the ancestor of the domestic dog, the gray wolf resembles German shepherds or malamutes.
The grizzly bear is a large predator that is different from black bears due to a distinctive hump on its shoulders. Grizzly bears have concave faces and long claws about the length of a human finger.
Get Instant Alerts & Updates
Enter email address
Enter mobile number
Follow Us