Courtney Sexton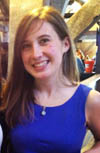 Courtney Sexton works on a host of issues with Defenders, with a focus on species and habitat concerns in the Southwest and Western states, renewable energy development and the highly endangered Mexican gray wolf. Prior to coming to Defenders, Courtney was part of the public relations team at the Smithsonian's National Museum of Natural History, and has worked with a handful of small environmental nonprofit groups. Most recently, she tried the life of a starving artist, working as a freelancer concentrating on nature, science and environmental writing. Courtney is a graduate of Villanova University and holds an MFA in Creative Nonfiction Writing from Sarah Lawrence College. 
You may also be interested in:
New plan may stop the annual slaughter of Yellowstone bison.
After demanding the opportunity to manage wolves within their borders, Idaho is completely blowing it. Instead of continued recovery, what we're seeing is a war on wolves.
The wolf is the largest member of the canine family. Gray wolves range in color from grizzled gray or black to all-white. As the ancestor of the domestic dog, the gray wolf resembles German shepherds or malamutes.
Get Instant Alerts & Updates
Enter email address
Enter mobile number
Follow Us