Claire Colegrove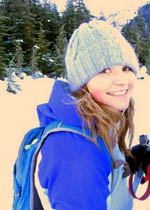 Areas of expertise:  National Environmental Policy Act; National Forests; Threats to Wildlife
Claire is the Alaska Representative with Defenders' office in Anchorage, Alaska.  Her work is aimed at protecting imperiled species and their habitats, concentrating on the Chugach National Forest Plan revision process and climate adaptation projects on the Kenai Peninsula in Alaska. Before moving to Alaska, Claire worked at Defenders headquarters in Washington, DC as Coordinator for our Legal, Climate Change, Federal Lands, and International Programs. Claire is originally from Bainbridge Island, Washington. She earned her B.A. in Environmental Studies from Hamilton College. 
You may also be interested in:
For all its unique beauty, the Arctic Refuge is under assault. The oil industry and its political allies continue to launch attacks to open this national treasure to destructive oil and gas drilling, while climate change threatens to disrupt its habitats faster than wildlife can adapt.
The Conservation Registry was developed by Defenders of Wildlife and partners to provide a simple, free web-based database and mapping system. The Conservation Registry visualizes on-the-ground conservation and wildlife investments.
Victory! Congress votes to protect endangered wildlife over special interests. Learn how Defenders and our supporters helped make this great win happen.
Get Instant Alerts & Updates
Enter email address
Enter mobile number
Follow Us