Claire Colegrove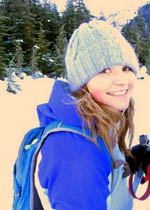 Areas of expertise:  National Environmental Policy Act; National Forests; Threats to Wildlife
Claire is the Alaska Representative with Defenders' office in Anchorage, Alaska.  Her work is aimed at protecting imperiled species and their habitats, concentrating on the Chugach National Forest Plan revision process and climate adaptation projects on the Kenai Peninsula in Alaska. Before moving to Alaska, Claire worked at Defenders headquarters in Washington, DC as Coordinator for our Legal, Climate Change, Federal Lands, and International Programs. Claire is originally from Bainbridge Island, Washington. She earned her B.A. in Environmental Studies from Hamilton College. 
You may also be interested in:
The wolf is the largest member of the canine family. Gray wolves range in color from grizzled gray or black to all-white. As the ancestor of the domestic dog, the gray wolf resembles German shepherds or malamutes.
Adult beluga whales are easily distinguished by their pure white skin, their small size and their lack of dorsal fin. The beluga has a broad and rounded head and a large forehead.
Bats are the only mammals capable of true flight. With extremely elongated fingers and a wing membrane stretched between, the bat's wing anatomically resembles the human hand.
Get Instant Alerts & Updates
Enter email address
Enter mobile number
Follow Us