Cindy Hoffman
Vice President of Communications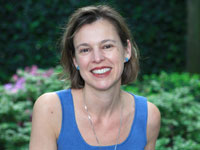 Cynthia Hoffman joined Defenders of Wildlife in 2005 as Vice President of Communications, where she manages the public relations and the publications departments. She managed the development of both radio and award winning television public service announcements on the conservation of endangered species and the impacts of global warming on wildlife. She has been instrumental in the development of multi-level campaigns that incorporate advertising, public education and earned media that have promoted issues such as the benefits of the Endangered Species Act, protection of the Arctic National Wildlife Refuge, Pea Island and Pocosin National Wildlife Refuge.
Cindy has worked in the field of conservation for more than fourteen years, in the non-profit world, at progressive PR firms and in the federal government, serving as a senior public affairs specialist for 9 years at the U.S. Fish and Wildlife Service. She has extensive experience in focus groups and polling on issues including the Endangered Species Act, National Wildlife Refuges and wolves.
Cindy holds a Bachelor of Arts in political science and sociology.
GET INSTANT ALERTS & UPDATES
Get Instant Alerts & Updates
Enter email address
Enter mobile number