Sea Otter Educational Trunk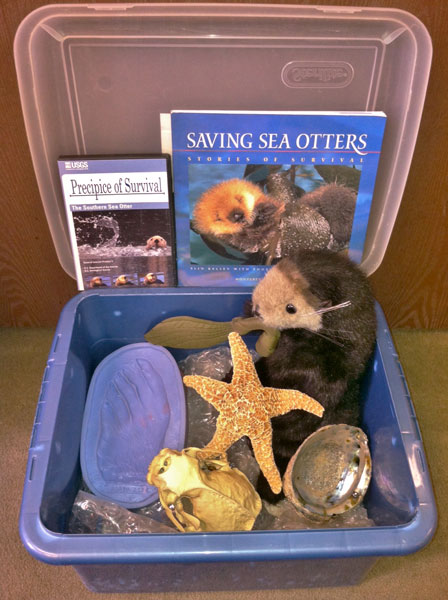 Are you a teacher or youth group leader looking to explore sea otter biology and conservation with your class? Defenders of Wildlife has a sea otter trunk that will help you do just that. While the trunk can be used for all ages, it comes with a sea otter teaching unit* suitable for 4th and 5th grade students. The goal of this unit is to educate children about the biology and ecological significance of sea otters through lessons in history, evolution, behavior, and conservation. This is achieved through reading materials, writing exercises, web searches, problem solving, a quiz, and maps. A Spanish version is also available upon request.
The trunk comes with a sea otter puppet, a starfish, an abalone, front and hind track molds, a replica skull, seven helpful books and guides, the DVD "Precipice of Survival: The Southern Sea Otter," and a laminated poster.
If you are interested in reserving the sea otter trunk, please contact the Defenders of Wildlife California office at (916)313-5800. A refundable deposit is required.
*The sea otter teaching unit is aligned to California, Oregon, and Washington state educational standards. It is formatted on CD-ROM.
Fast Facts
Length: California sea otters grow to about 4 feet; Northern sea otters are slightly larger.
Weight: With California sea otters, 45 lbs (females) to 65 lbs (males). Northern sea otters can reach up to 100 pounds.
Lifespan: 10-15 years (males); 15-20 years (females)
You may also be interested in:
In December 2012, after much outreach from Defenders and our supporters, the "no otter zone" is finally no more.
The Golden state is home to millions of wild birds, mammals, amphibians, reptiles and fish that need our help.
Please Bear With Them; The Eyespots Have It; Meat Your Mate; Dolphin Days are Here Again
Animals & Habitats
Browse all of our animal and habitat fact sheets.
Get Instant Alerts & Updates
Enter email address
Enter mobile number
On the Blog
February 20, 2014 | 11.30 AM
September 23, 2013 | 9.23 AM
March 20, 2013 | 10.37 AM
Follow Us