You are here
Home
|
It's Another Banner Year at the Cape Hatteras National Seashore!
It's Another Banner Year at the Cape Hatteras National Seashore!
Cape Hatteras National Seashore is one of our nation's treasures. It's a place where people can enjoy the beach and wildlife can safely live and raise their young. But it wasn't always this way.
The Problem
Until very recently, the National Park Service (NPS) had no rules for managing beach driving at Cape Hatteras National Seashore, and the sea turtles and shorebirds that nest there were paying the price. Increased off-road vehicle (ORV) traffic during the summer months meant danger for mother sea turtles and their precious hatchlings and for tiny piping plover chicks.

A balanced plan at the seashore was needed that would allow both wildlife and tourism to thrive.
Defenders' Role
Defenders of Wildlife and local conservation organizations worked for nearly a decade to ensure that NPS put effective beach driving protocols in place. The new rule finally took effect in 2012.
A Solution that Works
The NPS rule designates specific areas of the seashore for ORV use while setting aside other areas for a more natural pedestrian experience. It also includes important protections for nesting shorebirds and sea turtles and requires ORV users to obtain a permit to drive on the beach.  

Some predicted doom for Hatteras seashore tourism, but instead the rule has been a great success, with peak tourism numbers and record-breaking sea turtle nest counts!

Today, Cape Hatteras continues to thrive. In 2013, sea turtles broke the previous year's record by laying 254 nests, and tourism numbers during the nesting season stayed strong.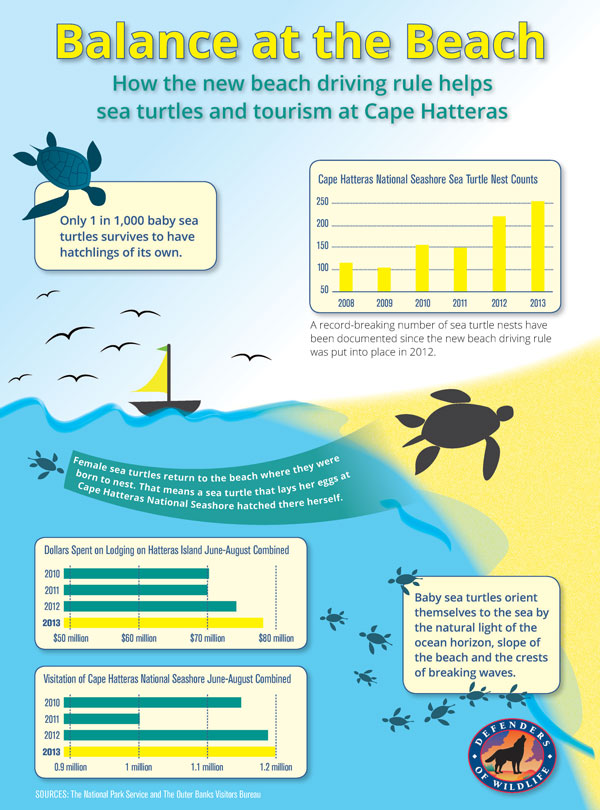 Those are numbers everyone should be able to get behind.

As we reach the second anniversary of the ORV rules in 2014, it's looking like it'll be another great summer at Cape Hatteras.
Learn More
You can learn more about our fight to protect Hatteras wildlife on our blog. Browse our archive and be sure to check back for updates!

Listen to our 2013 radio ad >>
You may also be interested in:
We're turning to President Obama to ask him to permanently protect 1.3 million acres of vital desert lands by designating the Sand to Snow, Castle Mountains and the Mojave Trails including the Pisgah Valley as national monuments!
Keeping the world abuzz and blooming is crucial 
to biodiversity and our own food supply
As birds and other small wildlife look for shelter, build nests and try to escape predators, sometimes they enter human-made places that are anything but the safe havens they seek.
Get Instant Alerts & Updates
Enter email address
Enter mobile number
On the Blog
October 6, 2015 | 11.45 AM
October 5, 2015 | 9.41 AM
September 30, 2015 | 10.57 AM